1917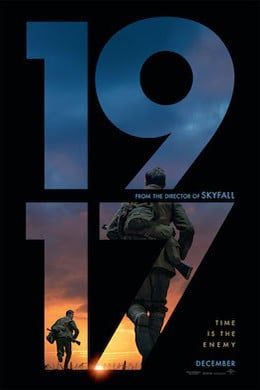 1917
Synopsis
BEST PICTURE! WINNER of TWO Golden Globe Awards: Best Picture and Best Directing!

OSCAR NOMINATIONS:
BEST PICTURE
Cinematography, 1917
Directing, 1917
Makeup and Hairstyling, 1917
Music (Original Score), 1917
Production Design, 1917
Sound Editing, 1917
Sound Mixing, 1917
Visual Effects, 1917
Writing (Original Screenplay), 1917

At the height of the First World War, two young British soldiers, are given a seemingly impossible mission. In a race against time, they must cross enemy territory and deliver a message that will stop a deadly attack on hundreds of soldiers - Blake's own brother among them.
Details
Drama, War
1h. 50min.
Opened Friday, January 10th

Director
Sam Mendes
Cast
Richard Madden, Benedict Cumberbatch, Mark Strong, Dean Charles Chapman, George MacKay
Advisory
Rated R for violence, some disturbing images, and language
Showtimes
Filter:
2D
3D
IMAX
IMAX 3D
35mm
70mm
HFR